New Technology Provides Opportunity for Increased Direct Mail Open and Response Rates Through Highly Personalized Envelopes Manufactured In Line.
Sebis Direct a trusted provider of document solutions, announced it has installed an inveloper wrap-based finishing system at its Bedford Park facility. By integrating with Sebis Direct's digital print technology, the Inveloper provides direct marketers the ability to increase direct mail open and response rates through more creative and personalized outer envelopes and selective inserting.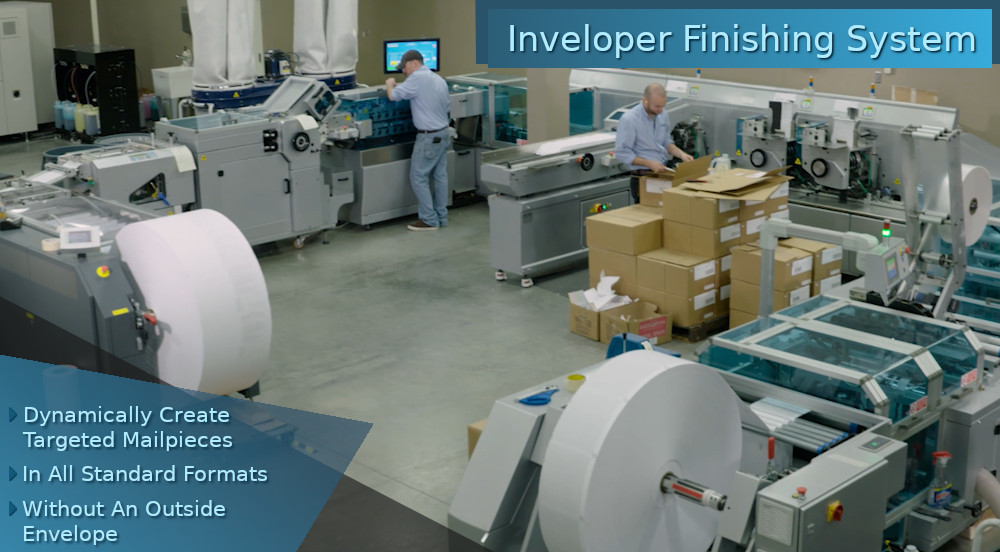 Enhancing direct mail campaign performance with increased personalization capabilities was an important criteria when Sebis Direct made strategic investments in digital printing technology. The Inveloper dovetails with its Screen TruePress Jet520 digital press lines.
"Adding the Inveloper into our production platform adds a tool kit to help our customers produce direct mail packages that are more relevant to recipients and standout in the mailbox," explained Wes Sanders, Sebis Direct President. "Sebis will see increased production efficiencies and quality. The Inveloper also facilitates time sensitive projects including data breach mailings".
Instead of the traditional method of inserting materials into traditional manufactured envelopes, the Inveloper uses roll paper stock that wraps around the contents of a direct mail package, which is then sealed to create the outer envelope. The Inveloper includes window patching, personalized inkjet printing and die cutting for the windows and flaps. The device "makes" the envelope from a plain roll of paper.
The Inveloper improves production quality by combining production and inserting into a single, more efficient process. By wrapping the contents instead of inserting, the potential for paper jams, work stoppage and productions delays are eliminated. In addition, less paper is used and postage costs are reduced by decreasing the weight of the mail piece. The Inveloper can also make snap pack and self mailer packages that are fully variable.