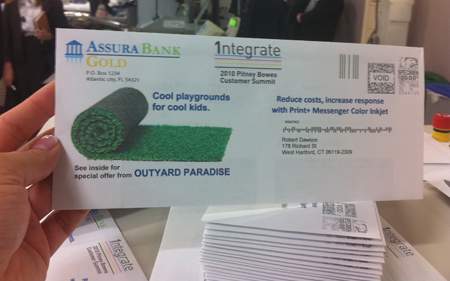 Sebis gives you the advantage with its modern technology called Print+Messenger. It prints variable graphics and messaging in full color on the front of an envelope which provides outstanding benefits. Now designers don't have to deal with window envelopes anymore and are not constrained because of address blocks. Real estate on the document is freed up and allows document designers to use the space to their advantage. Messaging can point to ride along inserts for marketing purposes. This marketing approach will reduce the overall cost to produce your mailing.
In addition, no envelopes need to be ordered because blank envelopes are always in stock for customization.
The Print+Messenger system uses 2D barcode technology to securely control the information printed on the envelope. The security of the system makes it compliant with HIPAA and other privacy and security compliance standards. These are but a few of the advantages that Sebis's Print+Messenger provides. You can go HERE to see details and a movie. Contact us today to learn more (312) 243-9300 ext. 22.
Targeted Graphics
Targeted Messaging
In Full Color
Perfect Match & Full Security
No Envelope Ordering & No Spoilage